Burgundy in September can seem a weary place. The vignerons are tired from the harvest and tired from showing the vintage to endless visitors to the cellar, probably endlessly asking the same questions. The clouds are low, grey and everything seems to be drawing in to prepare for winter. After a gruelling set of appointments, a beer is about all one can muster before dragging away for a night dreaming of cold cellars and wines that all taste identical.
In June, the sun streams down, the days are long, and everyone seems to bound around with an extra few inches in their stride. It is Volnay to the Pommard of winter.
I visited last week with a friend who works for one of the more 'prestigious' wine companies in the UK. Their prestige doesn't seem to extend sending him to Burgundy though, so I joined him on a holiday / business jaunt to see a few producers, drink some wine, stroll through the vineyards and see a couple of suppliers. Unlike September visits, this was relaxed and dare I say it, even fun?
On Monday we had visit with Domaine Fourrier, whose star seems to show no sign of slowing down its ascent. How the wheel of fortune has spun for Jean-Marie, who twenty years ago was schlepping round Belgium trying to sell his wines in supermarkets.
We met Jean-Marie's English wife Vicky as  was showing some 'big-name' guests around, including descendants of the Ming dynasty in China and our own Princess Beatrice. Oh my, modern Burgundy.
Vicky talked very interestingly about their commitment to keeping ex-cellar prices low, I think she mentioned something like 80 Euro for the CSJ. Also, she explained in detail about the negociant augmentation to the range, which is all financed and arranged by their importers, in particular their Hong Kong agent, Pearl of Burgundy. All news to me.
The 2016s all looked good, although a few like the Bourgone Rouge seemed to be going through a bit of an awkward stage. Yields are low, the skins are pretty thick so it should be a decent wine to age. Sort of like a 2009/2010 composite. Vicky also opened a 2011 CSJ which was terrific and drinking beautifully. A maligned vintage but one with ample charms when handled well.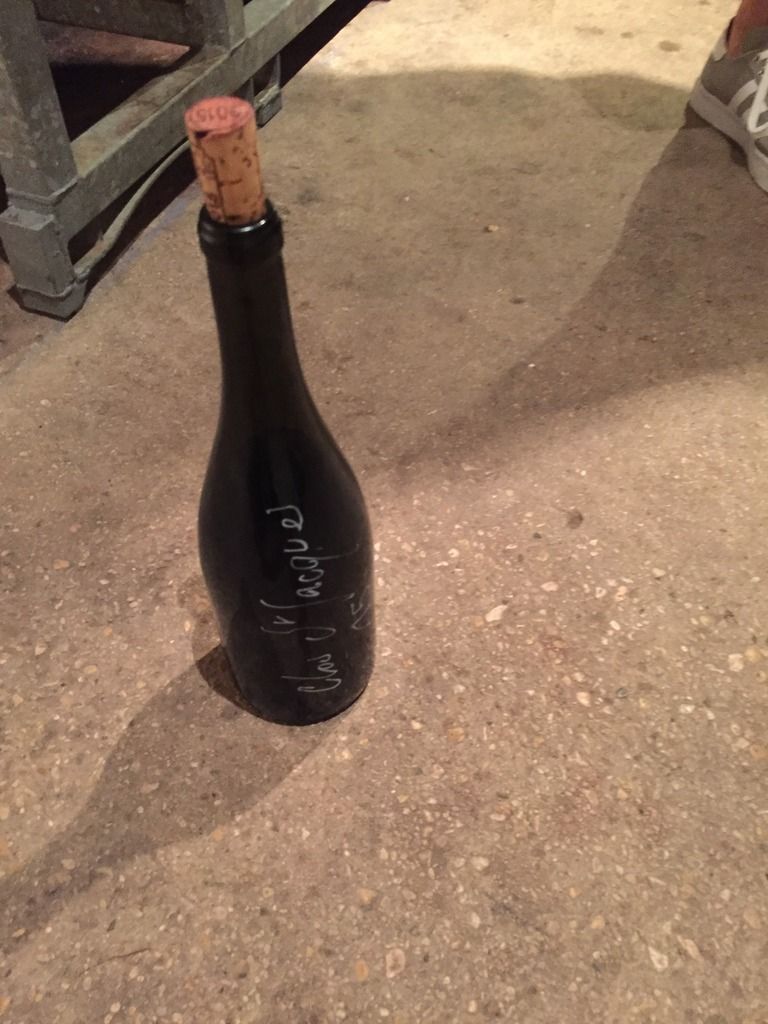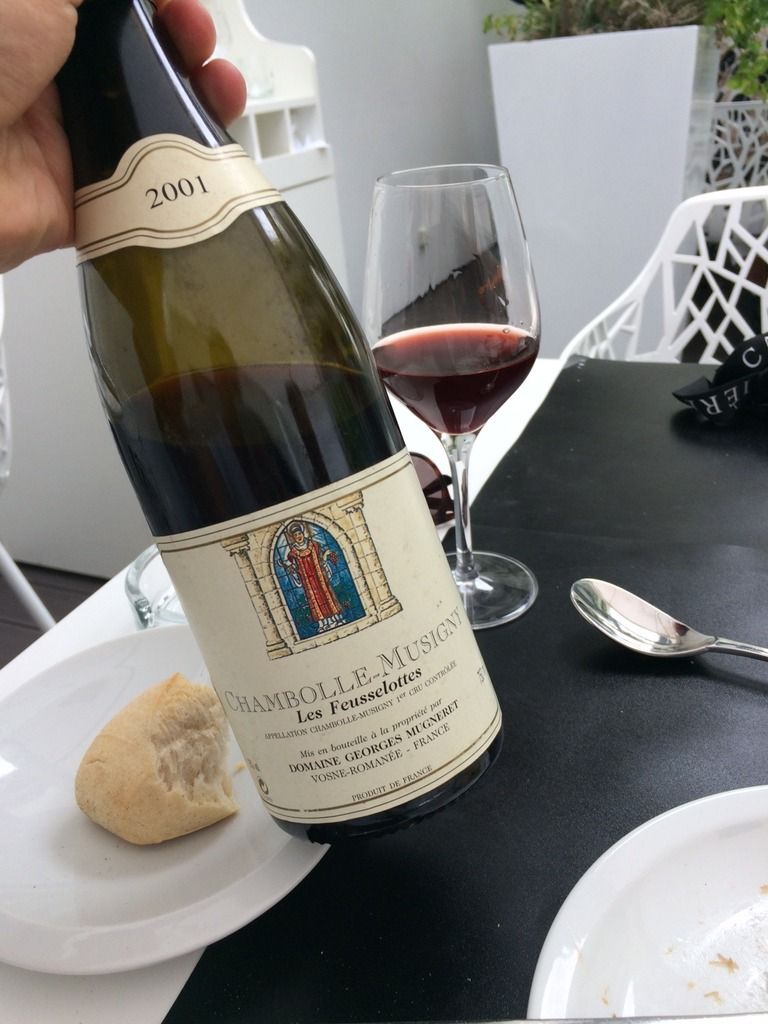 We departed for some lunch at the surprisingly excellent Gallery 412, set within a Holiday Inn, in Dijon with one of my friend's suppliers, who pulled out a bottle of 2001 Chambolle-Musigny 1er from Mugneret-Gibourg, which was great, if served a little warm and perhaps because of that lacked the definition that for me characterises the domaine.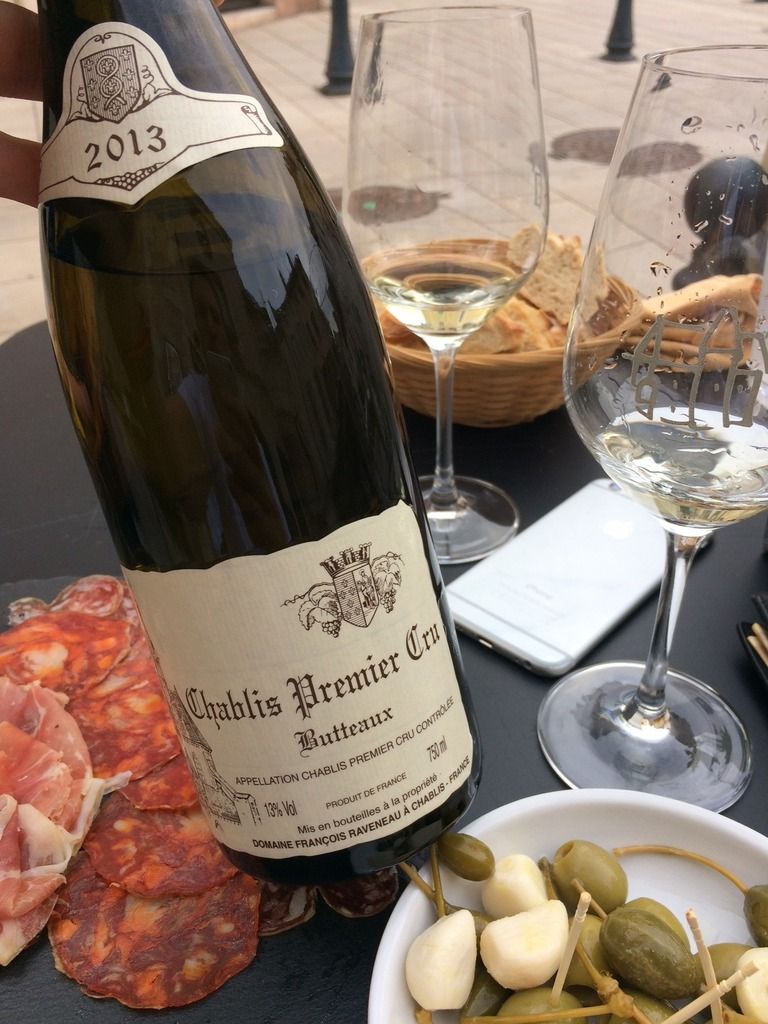 Dinner that evening was at the Maison de Colombier on a stifling hot evening. Being Monday, finding a restaurant was tough, and we only just managed to sneak a table to dine. We kicked things off with a bottle of 2013 Raveneau 1er Butteaux, which was sublime and well worth the meagre 75 Euro tariff. Although looking at the photo reminds of the pitted olives. I mean, why are we still doing this?
Things went rapidly downhill with a bottle of 2012 Savigny-Les-Beane from the usually estimable Simon Bize. Chewy, a bit green and lacking any joie-de-vivre, with some meat in winter, it would have been fine, but on a stifling hot evening with summer food. Not so much.